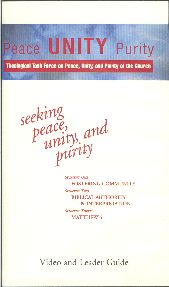 Media Information:
Copies in the Resource Center:
Summary:
In this video, Vicky Curtiss, co-pastor of Collegiate Presbyterian Church in Ames, Iowa, shares some of the tools being used on the task force to build a community of trust within the framework of worship, Bible study, prayer, and sharing. Frances Taylor Gench, professor of New Testament at Union Theological Seminary and Presbyterian School of Christian Education in Richmond, Virginia, discusses principles of biblical authority and interpretation, which is one of the topics that is key to the task force's mandate. Gench also leads viewers through a Bible study of Matthew 5.
Seeking Peace, Unity, and Purity is a video series produced on behalf of the Theological Task Force on Peace, Unity, and Purity of the Church. Contains content from presentations made to the task force during their meetings. This program is designed for use by Theological reflection groups, adult study groups, new member classes, and officer training.