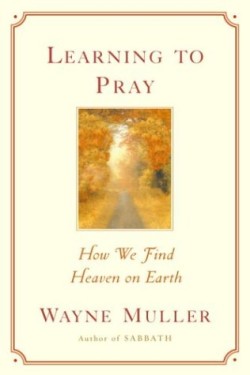 Media Information:
Copies in the Resource Center:
Summary:
In northern California, there is fog in the morning. Slowly, it clears. We know that the mountains, the trees, the sky are there, behind the fog, but we cannot see them with our eyes. Instead, we know them in our bodies, we know them for having seen them, felt them, watched the fog lift again and again…
This is prayer. This is deep, faithful listening, waiting for what is hidden to be revealed. Prayer is not words, prayer is what happens when you listen and wait, beneath the words, for the outline of heaven to emerge.
—From the Introduction Learning to Pray
Many who seek comfort and healing from prayer are unsure about how to pray. They feel awkward or uncomfortable, not knowing the "right" way to pray. What should prayer feel like, and what is it supposed to accomplish? In this illuminating book, Wayne Muller offers simple yet profound guidance based on the Lordís Prayer. It is the prayer most prayed in our culture–included in countless services, private devotions, and twelve-step meetings. Yet in its very familiarity we may underestimate its power to heal and transform our lives today. Now, in the same ecumenical spirit with which he approached the Sabbath, Muller gives us a fresh, new vision of this timeless prayer. "Every word, every phrase," he says, "reveals some potent teaching about prayer."
Starting with the word "our," which reminds us that we never pray alone, and continuing phrase by phrase, Muller leads us into the heart of the prayer, to the assurance of a heaven available to us here and now. He explores how God responds to our needs and wants, how we can seek protection in a world full of danger and evil, and how we are called to forgiveness. He also gently confronts the difficulties that some people have experienced with the prayer. Each short section ends with a Prayer Practice to bring these simple teachings alive in our hearts and lives.