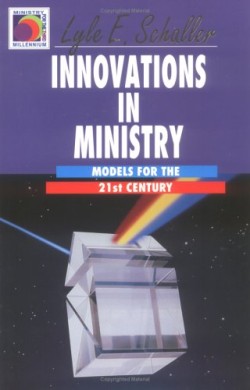 Media Information:
Copies in the Resource Center:
Summary:
Asserting that the good news greatly exceeds the bad news, Innovations in Ministry celebrates what's working in American Protestantism. Lyle E. Schaller identifies the new, emerging models for ministry, with heavy emphasis on paradigm shifts toward laity driven ministries, which include: (1) market-driven 'niched' ministry to reach diverse populations; (2) ownership and initiative in ministry; and (3) regional definitions of church.
The purpose of this book is found in chapter 5: A new partnership that redefines the role of denominations, raises expectations of the laity, and implements the Key Church Strategy (described in chapters 6 and 7). Another strategy similar to the Key Church model is found in chapter 8, where multi-site campuses are investigated. Takes seriously the shift from small, local churches toward large, seven-day-a-week regional churches; presents several dynamic, effective, and successful models of ministry that are emerging within contemporary Protestant churches; contributes a voice of hope to ministers who perceive their churches as threatened or even dying; provides concrete examples of how effective ministry is actually taking place in the contemporary church; and illuminates the 'Key Church Strategy' and provides support for those engaged in (or considering) a multi-site basis for ministry.