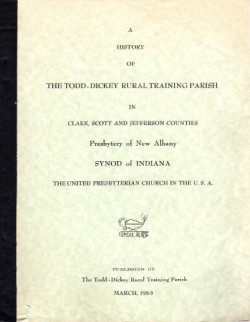 Media Information:
Copies in the Resource Center:
Summary:
The Todd-Dickey Rural Training Parish consisted of 13 churches in Clark, Jefferson and Scott Counties.
The churches were: Charlestown, Miller's Chapel, Mt. Lebanon, Henryville, Otisco, Nabb, Owen Creek, New Market, New Washington, Bethlehem, Hebron, Sharon Hill, and Lexington.
This history was assembled and published in print form by the Presbytery of New Albany in 1963. Digital editions published by the Presbytery of Ohio Valley, April 2014.