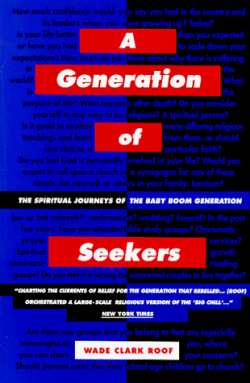 Media Information:
Copies in the Resource Center:
Summary:
Baby Boomers comprise over one third of the population, and however elusive it may be, there is something called a "boomer culture" – including a search far spiritual style. In this monumental study, premier sociologist Wade Clark Roof uses the life stories of prototypical boomers to reveal the soul of a generation that now embodies our new leaders in politics, business, and education.
Encapsulated in these stories is a sense of a generation's spiritual and religious experience while it searches for its own distinctive style in an uncertain world. A generation born over the span of years from 1946 to 1964, baby boomers include those growing up during the turbulent 1960's, in the mid-to-late 1970's during a time of evangelical and charismatic revival, and still others in the 1980s, with its smorgasbord of New Age spiritualities. With a population of seventy-six million, boomers defy easy generalizations about their beliefs and practices, but they are the generation that is altering the religious landscape of America in the 1990's. At every stage in their life cycle, boomers have had, and continue to have, a dominating influence on how Americans live and think and believe.
Already being utilized by religious and social leaders, marketers, and media specialists, Roof's research, presented with intimate portraits and incisive analysis, reveals a generation of diverse seekers who share surprising commonalities. They value experience over beliefs, distrust institutions and leaders, stress personal fulfillment over community, and are fluid in their allegiances. Now in their thirties and forties, boomers, states Roof in his introduction, "are no longer, if ever most of them were, to be thought of as the 'Me Generation' caught up in their own selfish pursuits; instead, this is a maturing generation of individuals concerned not just with their inner lives, but with their outer lives. We sense that they are reaching out to commit themselves to something of importance, yearning for relationships and connections, longing for more stable anchors for their lives."