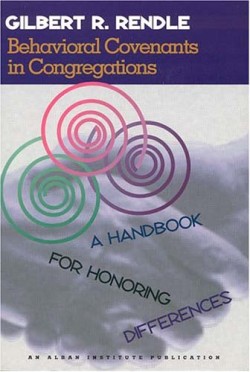 Media Information:
Copies in the Resource Center:
Summary:
This down-to-earth workbook gets to the heart of modern congregational life: how to live creatively together despite differences of age, race, culture, opinion, gender, theological or political position. Alban Senior Consultant Gil Rendle explains how to grow by valuing our differences rather than trying to ignore or blend them. He describes a method of establishing behavioral covenants that includes leadership instruction, training tools, resources (visual models, examples of specific covenants), small-group exercises, plans for meetings and retreats.
'Behavioral Covenants in Congregations is a gem of a book for any pastor or church leader who has noticed how inappropriately people often behave in their church relationships.' — Rev. Samuel E. Robinson, Ph.D.
'Have you ever wondered about the seeming 'disconnect' between the behavior of faith communities and the Word proclaimed in their midst? Cultural values and norms can't be checked at the door of the community, but are integrally woven into the fabric of congregational life–sometimes much to our dismay! Rather than accepting this as an embarrassing or awkward 'given' about which we can do nothing, Gil Rendle's book invites us to claim a deeper truth of the covenant community discovered again in contemporary spiritual discipline, enabling us to bridge congregation and culture.' — Rev. Michelle Wright Bartlow, Eastern Pennsylvania Conference, UMC