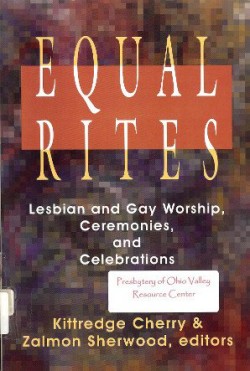 Media Information:
Copies in the Resource Center:
Summary:
This much-needed collection of worship services, ceremonies, and celebrations is attuned to the unique needs of sexual minorities. The rites, written primarily by lesbians and gay men, include liturgies of spiritual beginnings, healing, blessings, holy communion, and pride and empowerment. Also included are funeral and memorial services, seasonal and holiday rites, and covenant rites for couples.
More than a collection, Equal Rites is also a reference book for creating unique and meaningful worship services that address significant aspects of lesbian and gay spirituality.