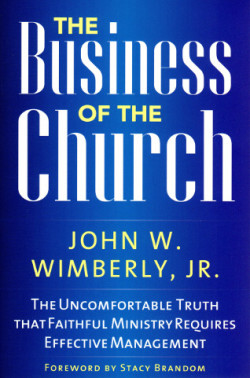 Media Information:
Copies in the Resource Center:
Summary:
Pastors are called to be not only leaders with vision but also managers of congregational systems, says John Wimberly in The Business of the Church. Drawing on his thirty-six years in ordained ministry, Wimberly weaves the realities of congregational dynamics and faith-centered purpose together with practical, proven approaches to business management. A student and friend of Rabbi Edwin Friedman, Wimberly builds on Friedman's systems theory as he helps readers avoid common pitfalls and put into practice effective techniques of congregational management.
The book begins with a foundational discussion of how a systems approach helps congregational managers identify areas of dysfunction and effective solutions. Managing the critical "inputs" of people, facilities, and finances has a direct bearing on the desired "outputs" of proclamation, pastoral care, and mission. A strategic plan, through which a congregation sets its goals and identifies and prioritizes resources, is an essential management tool for both pastors and lay leaders.
The author's conversational writing style and many real-life examples make a seemingly complicated, mysterious topic for some an engaging and easily applicable read.