Restless Fires: John Muir's 1000-Mile Walk to the Gulf 1867-68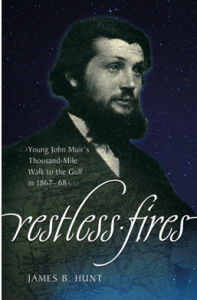 Author James B. Hunt will discuss his book about John Muir's 1000-mile walk from Jeffersonville to Florida in 1867-68 on Sunday, April 28, 2013 at 7:00 p.m. at the First Presbyterian Church, 222 Walnut Street, Jeffersonville.
Muir is best known as the co-founder of the Sierra Club and the most vocal citizen voice to make Yosemite a national park.  Before the Scottish-born American became a widely-published author and famous naturalist he suffered temporary blindness in an Indianapolis factory accident.
After recovering his eyesight, he devoted his life to the exploration and preservation of the natural world.  He took a train from Indianapolis to Jeffersonville.  After spending one night in our city he began his famous 1000-mile walk to Florida by ferrying from Jeff to Louisville, collecting and cataloguing hundreds of plant species from here to Florida.  Mr. Hunt will address how the walk helped to shape Muir's spiritual life.
All Are Cordially invited.
Sponsored by Kentucky Interfaith Power and Light and the Green Team of the First Presbyterian Church of Jeffersonville, Indiana.