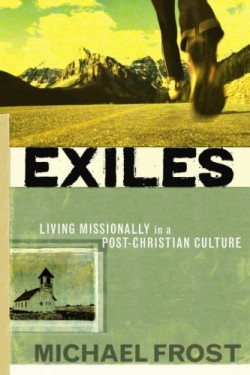 Media Information:
Copies in the Resource Center:
Summary:
Exiles: Living Missionally in a Post-Christian Culture presents a biblical, Christian worldview for the emergent church – people who are not at home in the traditional church or in the secular world. As exiles of both, they must create their own worldview that integrates their Christian beliefs with the contemporary world. Exiles seeks to integrate all aspects of life and decision-making and to develop the characteristics of a Christian life lived intentionally within emerging (postmodern) culture. It presents a plea for a dynamic, life-affirming, robust Christian faith that can be lived successfully in the post-Christian world of twenty-first century Western society.
This book will present a Christian lifestyle that can be lived in non-religious categories and be attractive to not-yet Christians. Such a worldview takes ecology and politics seriously. It offers a positive response to the workplace, the arts, feminism, mystery and worship. Exiles seeks to develop a framework that will allow Christians to live boldly and courageously in a world that no longer values the culture of the church, but does greatly value many of the things the Bible speaks positively about. This book suggests that there us more to being a Christian than meets the eye. It explores the secret, unseen nooks and crannies in the life of a Christian and suggests that faith is about more than church attendance and belief in God.
Written in a conversational, easy-to-read style, Exiles is aimed at church leaders, pastors and laypersons and seeks to address complex issues in a simple manner. It includes helpful photographs and diagrams.