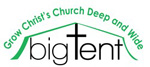 PC(USA) Big Tent Will Be in Indianapolis June 30 – July 2, 2011
Plans Proceed for Denominational Gathering

At the first Big Tent, held in Atlanta in June 2009, 10 conferences of the Presbyterian Church (U.S.A.) met concurrently, allowing participants to attend workshops and meet people from different areas of the denomination. The 2011 event, held June 30-July 2 in Indianapolis, will do the same.
"You won't get a chance to see as many parts of the church in one place as you will at Big Tent," said Kerry Rice, manager of the General Assembly meeting service. Groups to be included in the 2011 event:
World Mission's Mission Celebration
The Clergy Women's Leadership Institute, hosted by Racial Ethnic and Women's Ministries/Presbyterian Women
The National Black Presbyterian Caucus,  part of the Racial Ethnic and Immigrants Convocation
Healthy Ministries Conference
Presbyterian Communicators Network Conference
National Multicultural Church Conference
Evangelism and Church Growth
National Elders Conference
Peacemaking Conference
Racial Ethnic and Immigrants Convocation
Read the entire article on the PC(USA) website.